W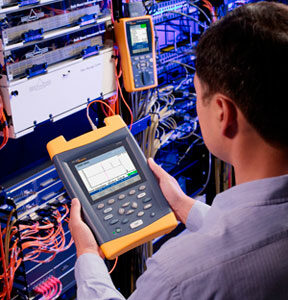 e remember a time when 56 kbps dial-up Internet was cutting edge technology, but around the turn of the century, broadband connections, like DSL and cable, started to spring up. If your business still uses 10-year-old networking equipment, we have a simple solution: a complete upgrade of your structured cabling.
Modern Connectivity
Copper telephone lines used to be sufficient for basic phone calls and Internet browsing. Nobody needs a fast Internet connection to read emails or send text documents, but think about all of the other day-to-day tasks you have added over the years:
Streaming Internet radio and videos
Teleconferencing
Transferring 100 MB and larger files
All of these tasks require significantly more bandwidth, and your old hardware will eventually impact your bottom line. If employees cannot access the information they need, productivity will adversely affected. Although Sterling Wiring Solutions started as a Houston electrical contractor company, we now offer a full range of structured cabling options. Our experts will inspect your current infrastructure and make recommendations based on your current bandwidth needs, and many of our customers decide to upgrade their electrical and structured cabling at the same time to minimize costs.
Voice Communications
Nothing beats good old fashioned telephones for communicating with clients and coworkers. Sterling Wiring Solutions can install or upgrade telephone systems including private branch exchanges, giving you the flexibility to add, remove, or edit extensions at will. We can also help you configure VoIP solutions that let you communicate over your Internet connection instead of a dedicated telephone line. You will still have a phone number, and in most respects, your phone experience will be identical to a conventional phone service but with the added benefits of increased flexibility, mobility, and productivity.
Data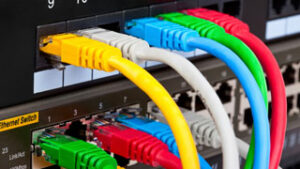 Technology continues to evolve at an exponential rate, and new software requires increasing amounts of bandwidth. As you hire additional employees and upgrade your computers, you will quickly find that your aging network can no longer handle the increased load. To bring your LAN (Local Area Network) up to speed, we can install the following cables:
Cat 6 Ethernet is the gold standard for wired networks across the country. Depending on your access points and Ethernet adapters, we can boost your LAN speeds up to 10 Gbps.
Wireless

Wired networks provide incredible speeds and reliability, but wireless networks are easier to install and expand. New standards such as 802.11ac have largely bridged the gap between wired and wireless networks. Because wireless speeds and signal strength have improved in recent years, we now offer wireless LAN installations. Want to update your business with state-of-the-art data and telephone service? We are FOA certified. Call Sterling Wiring Solutions today at [281] 997-0999!