Houston Electricians – Electrical Repair + Construction Solutions
Adj. Sterling /ˈstərliNG/ – highest in quality, of high or superior quality or performance. Excellent, sound, first-class, superlative.
A Little About Us
Sterling Wiring Solutions has been serving customers across Greater Houston since 2002. With more than a decade of experience in the electrical and telecommunications industries, every Houston electrician we employ can handle any type of commercial wiring project.
The Sterling Philosophy
You will never run across a Sterling Wiring Solutions electrician who does not provide exceptional work and calls it a day. We understand that "good enough" is never actually good enough, and our electricians will always strive for perfection. From the very first time you call us until our electricians screw the last outlet into place, we take pride in providing exceptional service for every client. The quality of our work speaks for itself, but dependability, honesty, and integrity are another matter. Trust needs to be earned, and our electricians work every single day to earn each customer's complete satisfaction. Sterling Wiring Solutions is a member of both the Texas Electrical Safety Association and the National Fire Protection Association, and we are managed by an OSHA Certified Safety + Health Official. Every job meets the highest safety standards in the industry.
Ruben Larez, Vice President
Our Highly-Trained Staff
Besides our philosophy of hard work, all of our employees share one other thing in common: they all receive a high level of training before they enter the field.
Additionally, all of our electricians carry Transportation Worker Identification Credentials [TWIC], a safe and secure biometric ID technology that allows workers to access restricted areas in ports, factories, and seafaring vessels. Because all of our electricians carry these credentials, you will never have to worry about unauthorized users entering your facility. Unlike some electrical contractors, every Sterling Wiring Solutions electrician is trained to both identify and fix wiring issues on the same visit, saving time and money. Our electricians also take pride in being responsive to every customer's needs, so do not hesitate to ask any of our employees if you have questions or concerns.
Every Sterling Wiring Solutions employee is required to earn:
OSHA 10 General Industry Certification
Houston Area Safety Council Basic Plus Certification
Part of the Eaton Certified Contractor Network [ECCN]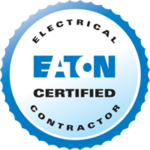 Colossians 3:22 – Slaves, obey your earthly masters in everything; and do it, not only when their eye is on you and to win their favor, but with sincerity of heart and reverence for the Lord.
All of Sterling Wiring's clients have a great experience with us, and it shows from our glowing reviews around the internet. Once you use us once you will want to use us over and over again!
Sterling Wiring has completed over 100 projects and counting! From small electrical home projects to big commercial projects we do it all!
Sterling Wiring Solutions has been serving customers across Greater Houston since 2002.
Commercial Wiring and Data Communications
Sterling Wiring Solutions provides a full range of electrical and data communications services. Whether you want to build a new facility in Houston or retrofit an existing property, we can handle any commercial wiring project. No job is too big or too small, and we install everything from light fixtures and outlets to miles of Ethernet cabling. We also specialize in data and phone system installations, making us your one-stop shop for everything related to wires. Already have a project in mind? Fill out our online quote request form, send us an email at info@sterlingwiring.com, or call us at 281-997-0999 to speak to us immediately.
Let Our Experience Speak For Itself.