Lighting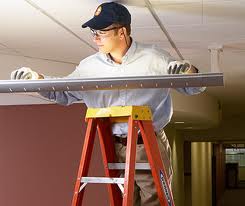 Electric lighting has been around since the 19th century, and it has been so common for so long that everyone takes it for granted. You flick on a switch, and you expect the lights to illuminate the entire room in the blink of an eye. Modern civilization relies more on reliable lighting than the Internet, airplanes, or air conditioning.
If it is so important, why are there so many problems with conventional lighting? Lights burn out, they waste electricity, and you cannot touch them without burning your hand. At Sterling Wiring Solutions, we are dedicated to completely replacing all of Houston's outdated lighting infrastructure.
Types of Lighting we do:
Parking Lots
Interior | Exterior Lighting
Warehouse
Security
Sign Lighting Maintenance
Pole Lights
Auto Dealerships
Churches
Sports Fields + Facilities
High Atriums
Parking Garages
A Cheap and Quick Way to Save Energy
The average incandescent light bulb uses about 75 watts of electricity, but the average LED bulb uses about 15 watts. Depending on your business, lighting accounts for 10 to 20 percent of your total energy needs, and when we are talking about office buildings with hundreds or even thousands of employees, 20 percent is a significant amount of energy.
Imagine how much money your business would save each year if we could cut your energy usage by just two to three percent. A mid-sized company would save thousands of dollars every year, and large corporations would save millions, which is why proactive business leaders are at the forefront of the energy efficiency revolution.
Lighting retrofits are relatively cheap and simple compared to other energy efficiency retrofits. Most LED bulbs will work perfectly right out of the box with your existing fixtures and switches, but even if we need to replace them, switches and light fixtures only take a few minutes to install by a professional Houston electrician.
Lighting Installations and Upgrades
Sterling Wiring Solutions, the electrical contractor of choice for Houston area homeowners and businesses, can install both interior and exterior lighting fixtures with low wattage LED bulbs, and we offer a number of other services to further improve your facility:
UPS and generator backups provide power during blackouts
Motion sensors save energy while increasing security
Dimmers allow employees to select optimal light levels to improve productivity
We can also connect your lighting system to one of our renewable energy solutions. Solar and wind power produce free electricity without generating any air pollution, and most renewable power systems pay for themselves in less than 10 years.
Lighting Maintenance

Warehouses and offices need reliable lighting to create a safe work environment. At 12 hours of use per day, an incandescent light bulb will last about three months, and an LED will last about 11 years. We can also inspect your motion sensors, fixtures, and switches to ensure that everything is functioning properly.
Give our electrical maintenance and repair experts a call to upgrade your lighting today!